While open kitchens remain popular, many homeowners are now choosing an enclosed layout design for their kitchen remodel project. Some simply prefer the enclosed kitchen design, others are limited by their home's footprint and must work within existing parameters. Either way, it is possible to design a closed kitchen to suit your needs, one that is not only functional, but attractive too.
The following enclosed kitchen design ideas and tips can help you create a compact, efficient layout that will serve your household for years to come.
What Is an Enclosed or Closed Kitchen?
The enclosed or closed kitchen is, quite simply, a home's central cooking area, one that is generally surrounded by four walls and has at least one door. Isolated from the other rooms in the home, this space contains all the necessary kitchen cabinetry and appliances. It may also include a small dining or other seating area too, such as an island, peninsula, or breakfast nook. Food preparation, cooking, and clean up are all done and contained in this room.
Benefits of an Enclosed Kitchen
Whether by preference or necessity, an enclosed kitchen offers great benefits for the whole family. Attractive and functional, it can suit most any size household and lifestyle. 
Keep Messes Contained
While the open kitchen is in clear view of other living areas, the closed kitchen keeps messes out of sight. This can offer homeowners the option to clean up when it's convenient, versus feeling compelled to constantly clean and neaten the kitchen area.  
Reduce Odors
Closed kitchens help reduce odor and fumes throughout the rest of your home. While tantalizing aromas from delicious meal prep are appealing, residual burnt or strong food odors are not, and an enclosed kitchen will better contain such mishaps.  
Noise Reduction
Imagine sitting in the family room watching the big game, the volume of which is competing with the clatter of dishes in the sink or the electric mixer in your open kitchen. In contrast, the closed kitchen generally confines sound from cooking, clean up, and appliances to its own compact space.

Enhanced Cooking Experience & Storage Potential
Generally surrounded by four walls, closed kitchens have great potential cabinet space, offering efficient storage for everything from pots and pans to pantry staples. Extra cabinetry can provide additional countertops and an efficient work triangle, with appliances placed right where you need them. True chefs, foodies, and weekend cooks alike will appreciate these well-organized features within this dedicated cooking space. 
An Enhanced Dining Experience
A closed kitchen may also include an informal dining area, breakfast nook, or seating at an island, bar, or peninsula. It offers many possibilities for daily use no matter what size family you have. For those who appreciate a formal dining experience, the enclosed kitchen functions well with a dedicated dining room too. Close in proximity to the dining room, the closed kitchen offers quick and easy access for everything from daily meals to special occasions with family and guests. 
A Stylish, Efficient, & Budget Friendly Option
While some homeowners may initially view the enclosed kitchen as a less than desirable or limited choice, it's truly an option worthy of consideration. Overall, the enclosed kitchen can be easier on the budget than a large, open kitchen. With less square footage, flooring, windows, and similar elements, the closed kitchen budget can free up funds to be spent elsewhere in the home.
Closed kitchen design ideas, for example, include the simple yet stylish galley layout. Featuring two parallel banks of cabinets and appliances, this clean silhouette is a versatile option that puts function first, housing all necessary amenities in a well-planned, compact space. Homeowners often find the galley and other enclosed kitchen designs streamline daily tasks, saving time and steps during food preparation and cleanup.
Importance of Creating Multiple Entry Points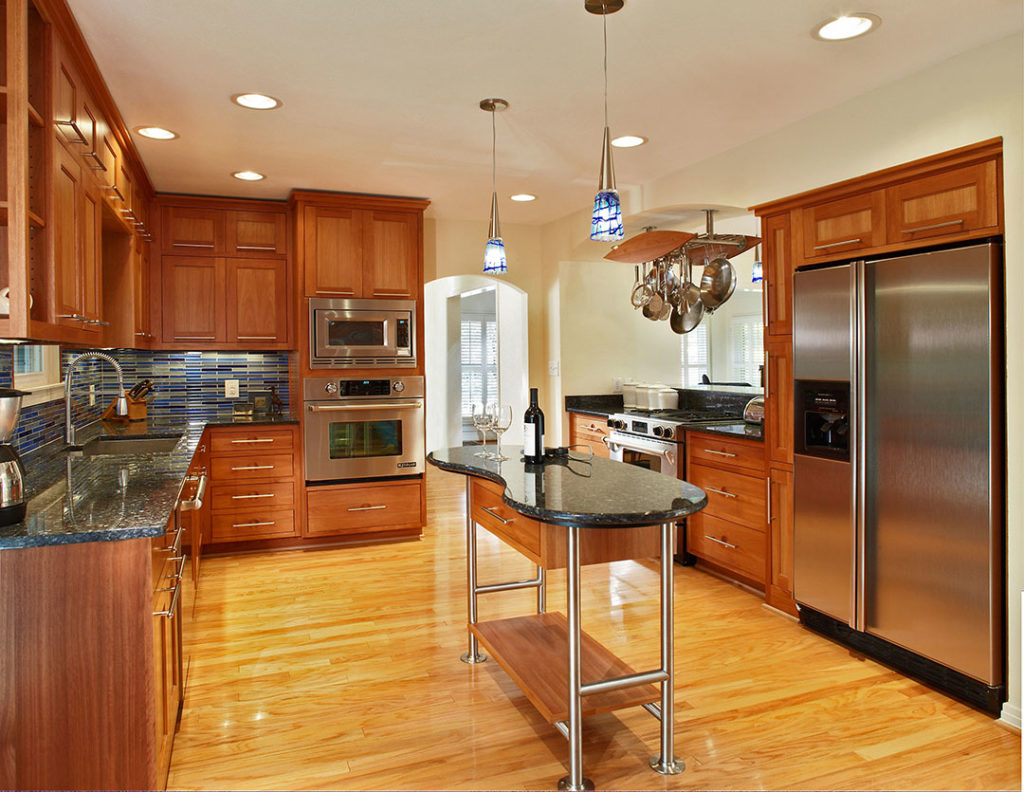 The key to designing an attractive closed kitchen is to add classic elements that function well and lend a spacious look and feel to the space. These elements include multiple entry points and openings. Actual points of entry include doors or entryways, and visual entry points will include windows, a skylight, or an opening in the wall, also known as a pass through. These entry points not only brighten and allow natural and artificial light into the room, they add subtle interest and character, too.
Ideally, an enclosed kitchen flows better with two doors or entryways because it helps prevent a bottleneck scenario for anyone working in or passing through the room. If the layout only allows one door, however, a little ingenuity and creative planning can relieve potential traffic flow issues. An island or peninsula, for example, can help create a circular traffic flow and allow the space to function efficiently.
Be Aware of Sight Lines
Sight lines are an important consideration in any home design, but are especially vital in an enclosed kitchen. The goal is to create visually pleasing lines, ones that help your eyes move easily through the space. Otherwise, the kitchen will look choppy, disorganized, and cramped.
Enclosed kitchen ideas that promote attractive sight lines include elements that help create a bright space with ample lighting and a clean, crisp design. Space saving cabinetry, sleek appliances, and complementary, light colored flooring will help create a beautiful, integrated setting. White or light colored cabinets and walls provide an open and airy feel, and make the space seem spacious and inviting.
Well-chosen décor elements, such as a geometric floor runner or table linens in subtle patterns, glass pendant lighting, and backless bar stools add further interest.  Other design considerations include the use of white subway tile or mirrors for a backsplash. The clean outlines and reflective qualities of these features provide not only the illusion of space, but smooth sight lines that flow unhindered through the room.
Carefully Considered Cabinet Choices
Since cabinetry is one of the main features in the enclosed kitchen, choosing the right color and style are keys to an attractive and successful design. White or light colors are best, as they provide a bright and spacious feel. A simple cabinet style is a wise choice too, as the clean and understated silhouette suits the closed kitchen design perfectly. Many enclosed kitchens forego cabinet hardware as well, to maintain a neat, streamlined look.
Other storage and cabinetry options include open shelving at the kitchen entry points and upper cabinets with glass panels. While these two options are great choices that offer an airy feel, it's important to keep them neat and uncluttered to avoid a busy, crowded appearance.
Slim base cabinets are another good choice to help maximize square footage. Homeowners should be aware, though, that they do offer a reduced storage capacity. An additional cabinet related design trick is to allow space between the entry doors and cabinets. Even a small allowance of space here helps maintain an open look and feel to the room.
Wise Window Placement
The enclosed kitchen layout benefits greatly from creative planning and wise window placement. Since windows take advantage of natural light, they can greatly enhance the closed kitchen's design, lighting, and décor, and lend a cheerful atmosphere to the room.
Placing a window, for example, above a sink, peninsula, or breakfast nook helps to bring the outside in, providing a bright and spacious appearance. Windows need not be large, either, to help create a well-lit, friendly space. In the right spot, the transom, round, or arched styles of small windows can work well, offering attractive and functional year round benefits.
Incorporate Layered Lighting
In addition to using windows to brighten the closed kitchen, it's wise to incorporate layers of various types of lighting. This artificial light will help prevent the kitchen from appearing confined and dark.
Additional closed kitchen ideas include well placed ceiling lights or under cabinet lighting that will open the space, providing ample light for cooking and clean up. Pendant or accent lights above an island or peninsula, as well as decorative fixtures above areas like the breakfast nook will contribute to a bright and friendly design scheme for cooks and visitors alike.
Select Reflective Surfaces
Reflective surfaces create the illusion of space, enlarging the enclosed kitchen's square footage in the mind's eye. Adding reflective design features such as glass backsplash tiles, high gloss wall paint, and/or shiny floors offers instant visual expansion.
Other bright elements that can help broaden the space include sleek stainless steel appliances and cabinets with a light, lustrous finish. The use of mirrors is another attractive design trick that brings light, depth, and dimension. Whether used as a backsplash, or on the walls surrounding a small dining nook, or elsewhere, mirrors provide an effect that enlarges most any room.
Choose Integrated Appliances
Integrated appliances work well in any style kitchen, from traditional to ultra-modern. If you aren't familiar with the integrated concept, appliances, such as the refrigerator and dishwasher are covered with a front panel that matches existing cabinets. These custom panels create a uniform look throughout the kitchen, and can be used for smaller appliances too, such as a trash compactor or an undercounter ice maker.
This smart, space saving design concept can suit any size kitchen, but is an especially good choice for the enclosed kitchen. Its clean, streamlined appearance helps maintain the open, airy flow that complements the closed kitchen's look and feel.
The Enclosed Kitchen's Timeless Appeal
Purposeful planning with classic features can help create an aesthetically pleasing and effective closed kitchen design. This dedicated space can serve your household well, now and in the future.
Blackline Renovations, Your Closed Kitchen Specialists
Since 2002, Blackline Renovations has been assisting Dallas, TX homeowners with their enclosed kitchen design and remodeling needs. Our expertise in closed kitchen remodels is extensive, and our design-build team is knowledgeable in every facet of the process. From initial consultation to completion, we guide you every step of the way. Whether an enclosed kitchen is your preference or a necessity, we can design a space that you will love, one that will work perfectly for you and your family.
We also have extensive experience as a custom design-build firm for open kitchens, living and family rooms, bath, and bedrooms, as well as utility, mud, and laundry rooms, ADUS, garages, and home additions. Visit our portfolio to see a range of our kitchen and other projects that highlight our design-build services.
Give us a call at 214-827-3747 or schedule a consultation to discuss your project with our team. We love helping homeowners enhance the beauty and function of their homes.
To stay informed about current Dallas, TX remodeling trends, inspiration for your home remodel project, best practices, and events, sign up for our monthly newsletter.