10 key signs your kitchen is ready for a renovation
Deciding to remodel your kitchen is a big commitment of time and money. According to Remodeling magazine's Cost vs Value Report, a major kitchen remodel can, and typically will, cost more than $75,000. And, because you use the space every single day, remodeling is inconvenient. So, homeowners frequently put this big job off until "someday," wondering when the best time is to tackle such a large project.
Besides being something your home needs, a kitchen remodel adds value and brings the family joy. So, if you're up for more joy, but not sure if the time is right, here are 10 signs your kitchen will give you to let you know it is.
Your Needs Have Changed
Whether you're expecting your first child or sending your baby off to college, family sizes change with time. With that change in size comes changes in lifestyle and cooking habits. A change in career, or the start of one, that takes you out of the home more, impacts the use of your kitchen. Retirement from a life of working outside the home does as well. A few other life changes that impact your kitchen needs may include:
The desire to entertain
Persuing baking or cooking as a new hobby
Needing accessibility changes
Deciding to sell the home
You Lack Storage and Prep Space
Every cook needs adequate space to store food and appliances and prep for meals. Older kitchens don't include many of the new specialty storage options and lack the countertop space that new designs include. If you find yourself prepping food in one small corner of your kitchen and rummaging through cluttered cabinets to find the sugar, you may be interested in a few of the following options:
Pull-outs to hold your spices
Drawer organizers for your k-cups or gadgets
A magnetic strip on the wall that gets the knife block off the counter
Cabinets to hide small appliances like the mixer or toaster
Narrow base cabinets to hold baking sheets
Your Kitchen Lacks Flow
Kitchen designers use the "kitchen triangle rule" when designing traffic flow. Since most of the room's activity involves the stove/oven, sink, and refrigerator, each of these items should form the points of a triangle with nothing blocking the path between them. Each side of this triangle should be from 4-9 feet long with a total perimeter of 13-26 feet. A side of the triangle less than 4-feet creates a bottleneck. Longer than 9-feet is inefficient. And, if an island prevents moving from point to point easily, you're probably a frustrated cook. A kitchen that doesn't follow this rule is ready for a remodel.
You Don't Have Room for Entertaining
A large, open kitchen invites guests to visit while you're pouring drinks, plating the hors d'oeuvres, or taking dessert out of the oven. If you find you're missing out on the conversation in the next room when you have guests, consider opening up your kitchen and include an island for additional seating. Other elements that help you entertain your guests include:
A beverage station/coffee bar—Equip this space with wine and cocktail ingredients, a wine cooler or mini-fridge, small sink, coffee maker, electric teakettle, and microwave. This small addition to your kitchen invites guests to serve themselves.
Specialty appliances—Nothing makes coordinating a multi-course meal easier than a warming drawer. If you love large crowds, add a second oven. For informal gatherings, a cooler drawer in an island keeps bottled drinks cold and accessible for guests.
Niche storage—To keep your countertops clean and uncluttered, so your guests will actually notice the stunning flower arrangement on your island, consider adding some of the specialty cabinets mentioned earlier. A kitchen designer stays abreast of the latest trends in both appliances and cabinets and can recommend the best options.
Extra pantry space—Large parties call for keeping a lot of supplies on hand. Who wants to run to the basement or garage to grab an extra pack of paper plates when you can just open a pantry door. For your large-scale gatherings, consider adding a butler's pantry to your kitchen remodel.
You Can't Stand Countertop Clutter
Older homes lack the storage space for a lot of small appliances. Homeowners 20 years ago didn't have air fryers, Instant Pots, rice steamers, and more. If you struggle to find space on your countertops to prep your food because it's covered in stuff, it's time to do something about it.
Your Appliances are Past Their Prime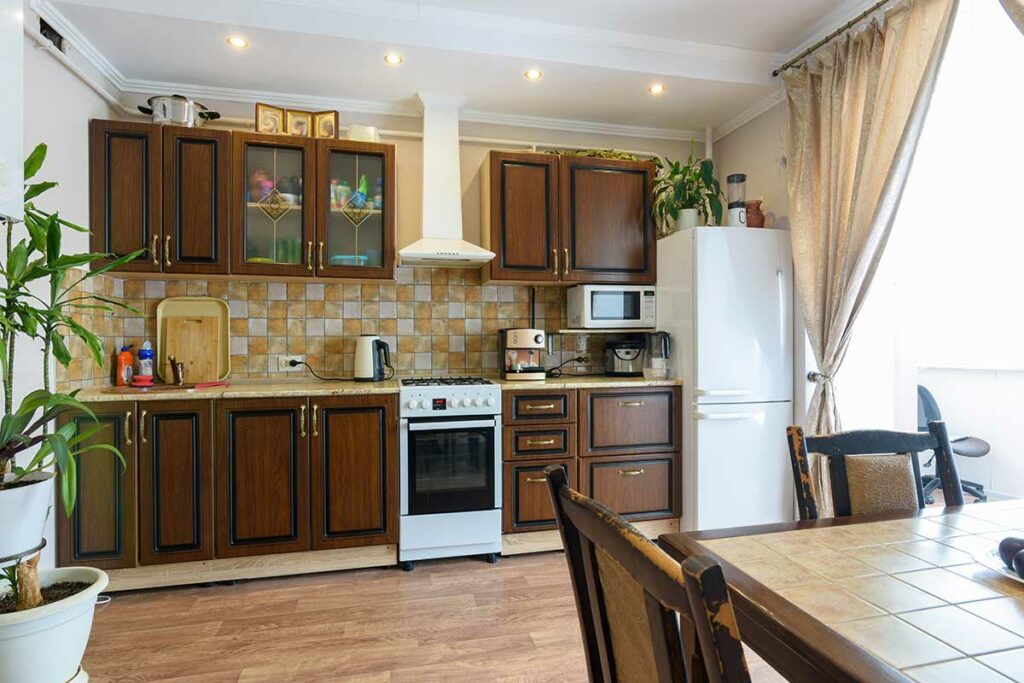 Old appliances don't just look old, they put a heavy load on your energy bill. To estimate the cost to operate an old appliance, use this calculator provided by Energy.gov.
New appliances are built with efficiency in mind, with finishes that require less maintenance, and with features you never dreamed of. Imagine setting your oven to preheat before you get home from work. What if you could tap a screen on your range hood for cooking advice, or tell your faucet how much water to dispense in your cup? These are just a few of the smart features now available in new kitchen appliances and fixtures.
You Can't See What You're Doing
As the heart of the home, the kitchen sees more activity than just cooking. We eat, entertain, do homework, and play games in our kitchens. All this activity calls for adequate lighting. If you struggle to see what you're doing in the kitchen, it's time for an upgrade. The four types of lighting you want to include are:
Ambient lighting—Illuminates the entire room with soft light. Provided by any type of ceiling fixture, it allows you to move about but not perform close work.
Task lighting—Shines on the task at hand. This bright light focuses on the area where you're preparing food. An example is puck or strip lighting under the cabinets or pendant lights over the sink.
Accent lighting—Shows off a special feature. This type of lighting shines on a particular design element like a glass-fronted cabinet that holds special dishes or a piece of artwork.
Decorative lighting—Is for the decoration more than for the light. A great example is a crystal chandelier.
You Can't Keep It Clean
If you struggle to keep your kitchen clean, you may avoid using it altogether. New appliances, flooring, and countertop materials come in maintenance-free finishes that save the homeowner time and frustration. If you're ready for an easy-to-clean kitchen, ask your kitchen designer about:
Fingerprint-proof appliances
Factory-sealed natural countertops
Ovens with a "quick clean" mode
Flooring that cleans with warm water
A toe-kick vacuum built into the base of your cabinets
You Want a New Look
According to the 2020 U.S. Houzz Kitchen Trends Study, "can no longer stand the old kitchen" is the second most popular reason homeowners choose to remodel their kitchens. When you're tired of your old kitchen, you know it. And, if you've been remodeling your home a little at a time, saving the kitchen for last, it may no longer flow with the rest of your design. A design-build remodeler can show you ways to make each area of your home flow seamlessly into the next.
You Want to Age in Place
Moving is a lot of work. Particularly if you've lived in your home for decades. If you don't want to leave your memories behind, remodeling your kitchen in a universal design will help you stay in your forever home. Universal design elements eliminate the need for step stools which lead to falls, make things easier to reach, and even soften the floor. A few ways to remodel your kitchen for aging in place include:
Opening the floor plan to accommodate the use of a walker or wheelchair
Removing door curbs
Replacing doorknobs and cabinet handles with loop-style handles
Installing pullout shelves in the lower cabinets or pull-down shelves in the upper ones for easier access
Replacing the range with a cooktop and wall oven, which is much easier to navigate
A kitchen remodel does more than increase the value of your home. According to the 2019 Remodeling Impact Report conducted by the National Association of REALTORS® Research Group, a complete kitchen renovation brings a Joy Score of 10, the highest value given in the study. Now that you know the time is right for your kitchen remodel, contact the design-build remodeling team at Blackline Renovations in Dallas. They know the signs that indicate the perfect time to remodel a kitchen. Browse their portfolio and then call to schedule a consultation. They're ready to offer friendly and expert advice.