The primary en-suite, comprised of the bedroom and adjoining bath, is an important and highly functional area in the home. No longer just a bed and bathroom, the primary en-suite's purpose has expanded to include optimum comfort and benefits such as a sitting or dressing area, convenient and efficient storage, and a luxurious, spa-like bathroom. It serves as a self-contained space, set apart from other rooms in the home, offering a secluded, retreat-like area in which to relax and recharge. When designing and planning a remodel for the primary en-suite, there are numerous factors to consider, so careful preparation is essential to ensure beautiful and functional results.
Here are our tips and advice to help your Dallas, TX en-suite remodel process go smoothly from start to finish.
Determine Your Needs vs. Wants
The first step is to create a list of items that fall under two categories: "needs" and "wants". Starting with "needs", decide what primary bedroom en-suite elements you need to make the space more functional, convenient, and comfortable. These elements are generally the non-negotiable "must-haves", the practical features necessary for daily use and comfort. These important items can include generous storage and closets, a proportionally sized tub and/or shower, ample lighting, and quality fixtures and mirrors.
On the second list, the "wants", add the items that aren't absolutely essential, but would be nice as budget, layout, and other factors allow. Less essential items fall under this category and might include a jetted tub, bigger shower, skylights, laundry area, or radiant heat flooring in the bathroom. These additional elements will expand the budget, so know that a little compromise may be necessary to suit your financial plan for the project.
Both your "needs" and "wants" can be adjusted and personalized, of course, to suit your tastes, home's layout, budget, and current and future requirements. A good design-build firm will help formulate and customize the right plan for you.
If you aren't sure where to begin, check out our portfolio of bathroom remodels for more ideas.
Consider Location and Layout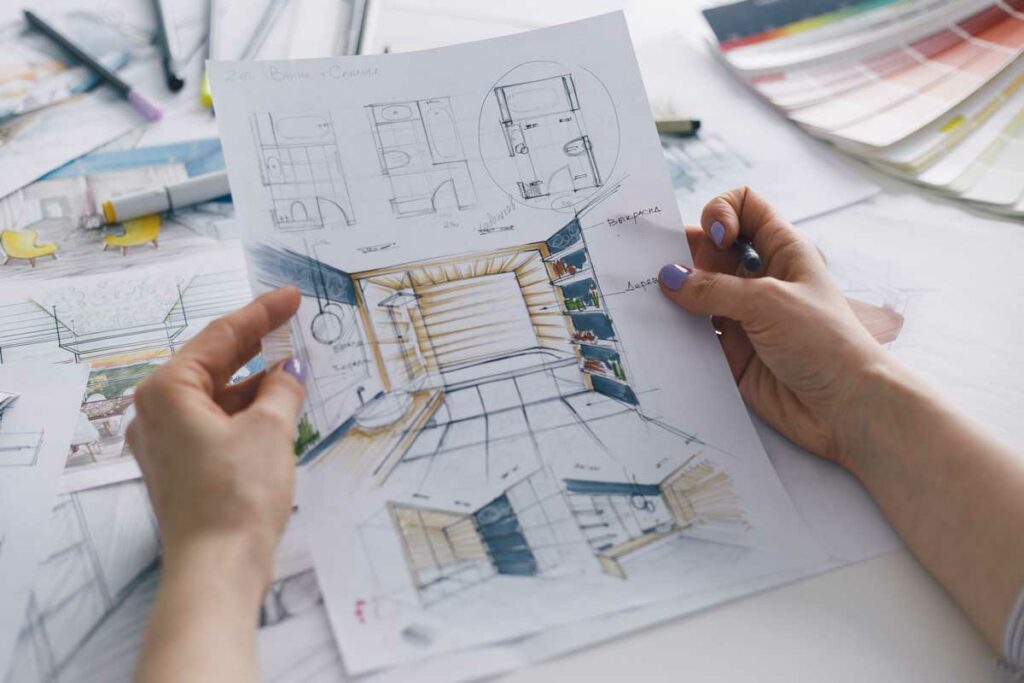 Whether a remodel or addition, the items from your lists will help determine the details of the primary bedroom en-suite's overall plan. The layout and location may be impacted, for example, if you need space for a soaking tub and a shower. Many primary en-suite bed and bathrooms are best suited where they are, while others are better located in another area in the home such as the ground floor. Other considerations include the structural impacts, where moving or adding walls, adding windows, doors, or skylights, relocating plumbing and wiring, and similar adjustments might be necessary.
Other factors to consider are your primary en-suite bathroom's daily use and flow of activities. These factors may affect both the location and layout. Will more than one person be using the space? If so, do you want the bathroom to accommodate two people at once, with more square footage and a larger vanity and double sinks? Other possibilities include a water closet for the toilet and a completely waterproof wet room for bathing and showering. You'll also need to decide if you'd prefer a bathroom that's open or closed to the bedroom, whether by walls and a traditional, French, or pocket door, a half wall, or another type of privacy screen.
As for the en-suite bedroom, you'll need to consider everyday use and flow here too. Would you like a sitting area for reading or watching television? Is a larger walk-in closet with extra storage or a dressing area in your plan? What furnishings are you planning on including in the space? Does the primary bedroom need to be close to the laundry room, home office, or other bedrooms? It's a good idea to consider your needs now and in the future, where possible, for your overall plan.
The many choices and considerations can seem overwhelming at first, but a qualified design-build firm like Blackline Renovations can help. From design, layout, and materials to budget, construction, and scheduling, they offer support and guidance throughout the entire process.
The Aesthetics are Important
When remodeling the primary en-suite, the aesthetics are just as important as location and layout. You'll want to create a space that is attractive and comfortable, a spot in which to relax and unwind. Among the many items that provide aesthetic value are window treatments and furnishings, traditional and dimmable lighting, towels and bedding, areas rugs and flooring, wall art, and other decorative accessories. Aim for classic design elements in the bedroom and bath that provide a cohesive look, complementing each other as well as the rest of your home.
Your design-build firm is a great asset here as well, with their consultation, creative inspiration, design services, and portfolio of en-suite remodels. You can find additional aesthetically pleasing ideas on our blog that will help create a look you'll love for years to come.
All About the Amenities
Among the many reasons homeowners remodel the primary en-suite bedroom and bath is to add or upgrade the amenities. These important features help the space to function better, while offering convenience and comfort to your daily routine.
The Bathroom
There are numerous en-suite bathroom remodel ideas and amenities, including multiple shower heads, a low or curbless shower, fogless heated in-shower mirrors, steam showers, jetted or soaking tubs, and heated towel racks. Radiant heated floors are another wise investment, as are touchless faucets and smart toilets. Attractive lighting, from back lit mirrors and sconces, to pendants and track lighting help illuminate and brighten the space. Ample storage is a must too, whether a vanity with drawers and integrated power for hair care tools and additional accessories, or custom built-ins and shelving for linens and other supplies.
The Bedroom
Bedroom amenities can include ambient lighting, a laundry area, and comfortable furnishings. Depending on the primary en-suite's location and placement of windows and doors, custom shades or blinds are another feature that help monitor light and privacy. Storage is essential here too, and found in walk-in closets, custom built-ins, closet systems and organizers. Acoustics are another important consideration, especially in a busy household, and noise softening options include sound-proof panels, sound-insulating wallpaper, window treatments, doors, and a purposeful room layout.
En-Suite Storage Options
Ample, attractive, and efficient storage is one of your home's most functional assets, and the primary en-suite is no exception. Any storage, whether in the bath, bedroom, or in a closet or a hidden nook, can be designed to suit your present and potential future storage needs. Whether you need a new or larger bedroom walk-in closet, or additional linen closet or other storage in the bath, creative solutions are available. Your design-build team can help you choose what best suits your needs, from custom built-in shelves, cabinetry. and pullout drawers, to hidden and under-bed storage and closet organizing systems. These handy storage options house and neatly organize towels, bedding, clothing, shoes, accessories, and a whole lot more.
Careful Planning is Important
A new or remodeled primary en-suite bedroom and bath offers great value and long term benefits for the homeowner. Smart planning is the key to success, and an experienced design-build firm can walk you through the process. They will help you create a comfortable, retreat-like haven in which to rest and relax now and in the future.
Blackline Renovations, Here to Help You
Since 2002, Blackline Renovations has been serving Dallas, TX homeowners, offering remodel and primary en-suite design and build services. Our experienced team will customize a plan for your home, suited to your needs and preferences. We love helping homeowners add beauty, function, and value to their homes.
Our extensive knowledge and expertise in the remodel industry guides homeowners through the process, from first consultation to completion. Browse our portfolio for a sampling of completed projects, including kitchens, living rooms, bath and bedrooms, utility/mud rooms, ADUs/garages, and home additions.
We would be happy to answer your questions about your next remodel project. Call us at 214-827-3747 or schedule a consultation with our team.
For the latest information on Dallas remodeling trends, inspiration for your home remodel project, best practices, and events, sign up for our monthly newsletter.