No matter the total square footage of your home, most people value, and long for, more suitable space or a dedicated room to use for a particular purpose or special interest, such as a home office, home gym, or craft room. It is only after living in a home for a while that its shortcomings become apparent. While it's possible to gain additional living space by removing a wall or reconfiguring an existing space like a kitchen or bath, it can also be advantageous to consider adding square footage by building a new home addition.
In all cases, before planning an addition or expansion, you'll need to comply with local ordinances and building codes. Some constraints may also exist. Other considerations include the character of your neighborhood, how long you plan to remain in your home, and your budget. But beyond these basics, here are 8 ideas to improve the functionality of your Dallas home.
Main Floor Expansion
Enlarging the ground floor is the most common type of room addition. There are several different ways to do it, but most require expanding the home's footprint. A room addition starts with careful planning—one that fits with the existing floor plan and seamlessly blends with the home's exterior. When construction begins, the contractor will typically remove a portion of the existing exterior wall, frame the new space, and add a roof, all blended seamlessly to match the home's existing architecture.
Main floor expansions are a great way to enlarge a bedroom or add new floor space for general use. Renovating a bathroom or kitchen is a popular choice among Dallas homeowners, but is also more complex due to plumbing and electrical requirements.
Second-Floor Addition
If you require substantial new square footage, a viable option is expanding your home upward. You can nearly double your interior space by building a full second-story home addition onto your one-story home, or opt for a second-floor expansion to a specific section of your home. Ideas? Expand your existing living room space, while adding a new bedroom, bathroom, game room or library to your home. Or, consider a second-story deck. Also, add square footage over an attached garage or even a covered patio. The ideas are limitless and dependent upon your functional needs, zoning restrictions, and budget restrictions.
Bump Out
Similar in some ways to both of the above options, a bump out entails precisely what it sounds like — redefining the perimeter of the existing floor plan to gain a bit more interior floor space. It's typically a minimal expansion, but it can add just enough room for a breakfast nook, a sitting area in a master suite, or even a mini home office or reading area.
Enclose the Back Patio
With a new focus on the outdoors, enclosing an existing patio is an easy way to not only gain year-round living space but to take advantage of good weather and outdoor ambiance! If like most Dallas patios, your porch extends into a nicely-landscaped private yard or pool deck, this is an ideal way to capitalize on new space for you and your family. Patio enclosures are typically cost-effective and can be completed with minimum disruption to other parts of your home.
Convert a Front Porch or Revamp the Home's Entry
Sunrooms, although most common in the backyard, can also be designed into the front of your home. A glass-walled room that faces a front garden can effectively bring the outdoors in, and add old-world charm to your existing home. It might also be well-suited for use as a new sitting room, home office, library, or music room. A converted front porch can also be a unique option to suit both traditional and contemporary styles. Your creative design-build team will be able to suggest how best to design an entryway that creates more visual interest and curb appeal.
Finish an Attic
Take advantage of an unfinished attic to add livable square footage to your home—often the most cost-effective way to gain valuable space. Whether you envision your house's top floor as a luxurious master suite, a quiet home office, or a hangout area for kids, you'll need to consider certain unique and sometimes challenging obstacles. These include, but are not limited to, compliance with applicable safety codes, soundproofing the attic floor, staircase access, hiding exposed insulation or an HVAC system, adding dormers or gables for proper lighting, etc. A qualified design-build firm can advise you on a design plan that not only meets your functional needs but will also keep you compliant. With proper planning, finished attics can be as livable as any other room in your home—and add to your home's resale value.
Build Above a Detached Garage
If you have a detached garage, a pool house or another type of outbuilding on your property, you may want to consider adding a livable space above it. The roof of a detached garage can be used for a deck or patio. Another possible design element for a detached garage is adding a second floor for a guest room, home office or a "man cave". This will cost less than adding to an attached garage since you will not have to contend with the home's existing roofline.
Another advantage of the detached garage design is the increased curb appeal for the home, especially for a smaller home that may be overshadowed by a two- or three-car garage addition. Also, a floor plan without an attached garage can offer more window views and landscaping space.
Add an Accessory Dwelling Unit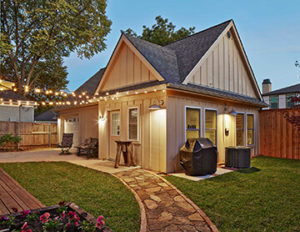 In standard terms, an ADU or accessory dwelling unit distinguishes an outbuilding from a "she-shed" or a "man-cave," a pool cabana or a garden house because it is meant to be occupied full-time. It offers all the conveniences of a primary dwelling and is often known as a "granny flat" or "tiny house."
A functional ADU includes all the amenities for living, sleeping, grooming, and simple meal preparation. As an option to add much-needed space to your residence, this free-standing unit is gaining popularity throughout the country. They are commonly used to accommodate aging parents, adult dependents, frequent guests or on-site caregivers. They are also gaining popularity for generating rental income. ADUs can also be as luxurious or as simple as you want to design them.
Ready to start a conversation with Blackline Renovations?
Whatever your individual needs for additional living space in your Dallas home, Blackline Renovations has the design and construction expertise needed to safely walk you through your entire home remodeling project.
We invite you to contact us to discuss your ideas for your home. We will listen to your needs and help you design a home addition that fits your functional needs and budget requirements. If you're not quite ready to discuss plans for a home addition, we invite you to subscribe to our monthly newsletter to stay up-to-date on all things remodeling.
Our team specializes in home renovations in prime residential communities throughout the greater Dallas area. Explore our portfolio of client-pleasing designs. Particularly now, as families are facing the reality of "a new normal," our homes need to be comfortable with adequate space for our entire family.
Let's discuss cost-effective and functional solutions for solving your needs for adequate space. Call Blackline Renovations today at (214) 827-3747 or schedule a consultation.