Residential wellness design has been a big talking point for a long time now. Even before the recent worldwide pandemic, Americans were spending more and more time close to home. We see our place of residence as a safe sanctuary in which to relax, play, and increasingly, work. 
With health, happiness, and productivity at the forefront of modern home design, it's worthwhile considering how the latest home wellness trends can make a positive difference before your next Dallas remodel. In this article, we explore how you can make your home a wellness sanctuary for all the family. 
The Wellness Products Gaining in Popularity
Wellness touches every part of the home and how we interact with the world around us. As physical health and mental wellbeing become more central issues for society in general, homeowners increasingly ask design-build remodeling professionals for the most effective wellness-related products. 
Some of the most sought-after wellness features and products include:
Air purification systems
The demand for home air purifiers has grown over recent years, in part due to concerns about air pollution. Air purification systems are seen as an indispensable health and wellness feature, especially for family members who have asthma, airborne allergies, and other respiratory conditions.
The need accelerated even further at the beginning of the COVID-19 pandemic when more and more people began working from home and worried about the quality of the internal air circulation. 
Smart home technology
Smart home technology is becoming ever more integrated into our daily lives. The integration and automation of home devices mean we can control our levels of comfort, safety, and wellness at the touch of a screen and with precision. 
Nowadays, we can set smart thermostats to modulate the interior temperature in particular localized zones of the home. Doors can be programmed to lock automatically when you leave the house. You can also automate smart lighting to turn on and off at set times and at different levels of brightness. 
Soundproofing
Noise pollution is another factor that can hamper our emotional wellbeing. When two or more people are working from home, noise can quickly become an issue, particularly during Zoom meetings. Soundproofing your house is a crucial way to provide that important peace and quiet you need to work, relax, and sleep. 
Soundproofing covers a variety of strategies that minimize sound internally. These include sound-blocking (preventing exterior noise from getting in) and sound-absorbing (reducing internal noise getting out and internal echoing). Sound reduction measures can be applied to walls, floors, ceilings, doors, and windows.
Flex spaces
As homes become more multifunctional and a place from which to work, flex spaces are increasing in popularity. A home flex space is where a room is used adaptively, often for multiple different uses. For example, many homeowners request a leisure space that can transform into a meditation/yoga studio, a fitness room, or a home office within just a few minutes.
Kitchen Wellness Design
Kitchens have long been considered the heart of the home, but they are that and more these days. They are open spaces where we make meals, gather as families, entertain guests, and even places where we set up a laptop and work. As such, wellness design is essential for such an integral part of the home environment.
The latest kitchen wellness trends include:
Decluttered kitchens
Wellness is inherently about making life simpler and more relaxed. Intelligent storage solutions reduce clutter and mess, thereby supporting a space conducive to relaxation and cooking enjoyment. For example, walk-in pantries are an accessible way to keep utensils and foodstuffs safe and out of the way, while kitchen islands provide easy-to-reach storage options in a more central location.   
Increased space for larger refrigerators and freezers
Larger refrigerators and freezers allow for the storage of more healthy eating options. Organic food sales in the US rose by over 12% in 2020 as people seek ways to maintain healthier lifestyles through good nutrition. With alternative foods such as plant-based meat and non-dairy milk and cheese, non-traditional dietary options are becoming more varied and on-trend. 
Hands-free fixtures
The global pandemic brought a change in how we perceive home hygiene, especially what we touch. Hands-free fixtures provide not only a functional element in an often-busy kitchen but also a more hygienic one. Touchless faucets that use motion sensor technology make it easier to access warm water when your hands are covered in baking powder, raw meat residue, baby food, or mud. There are also hands-free trash cans. 
Smart-tech appliances
Smart-tech appliances are proliferating in the kitchen. Nowadays, you can control your coffee maker, refrigerator, blender, toaster, and oven, among many other gadgets, all from your smartphone. This state-of-the-art wizardry allows you to prepare healthy foods in a more pre-planned, relaxed, and accurate manner while not necessarily always being in the same room.
Water purification
Medical professionals frequently extol the benefits of drinking plenty of water. Yet to enjoy these full health benefits, your home water must be as clean and transparent as possible. Under-sink water purification systems help reduce the amount of dirt, chemicals, and other impurities in your drinking water, thereby improving your health and the water's taste. 
Climate-controlled cabinetry
Thanks to the wonders of modern technology, we've grown accustomed to being able to maintain the perfect temperature in every room. But now, you can also set a particular temperature for your kitchen cabinets, whether in-built or stand-alone. Through the use of climate-controlled cabinetry, you can control the temperature and humidity of where you store food, wines, and even cigars! You can even grow vegetables in your kitchen. 
Bathroom Wellness Design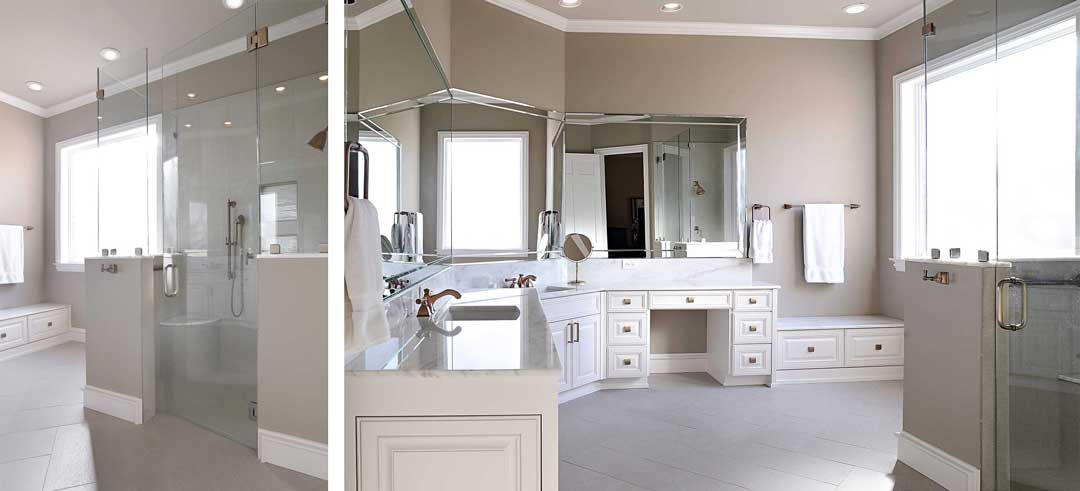 Exciting home wellness trends also extend to the bathroom. As a cleansing and rejuvenating sanctuary, the bathroom is an ideal setting for the numerous benefits associated with modern wellness features. 
The latest bathroom wellness trends include:
Low maintenance, anti-bacterial, and easy to clean materials
With hygiene such a crucial current topic and one likely to remain paramount for a long time, homeowners are seeking fast and easy ways to keep their homes clean. In the bathroom, this means installing low maintenance, anti-bacterial, and easy-to-clean surface materials. Large-format tiles are quick to wipe down, as are screens and glass doors with fewer frames and lattices. 
Neutral color selections for a calm spa-like atmosphere
When it comes to visual design, neutral colors are a firm favorite in bathroom interior design schemes. Muted natural colors help give the bathroom a calm spa-like atmosphere, providing an inviting, clean, and restful space. The addition of plants can bring the health and wellness benefits inherent to the natural world.  
Bidets
During the early days of the COVID-19 pandemic, the panic buying of toilet paper revealed our dependence on this hands-on method for personal hygiene. Homeowners with bidets, however, were much more relaxed. 
"Once seen as a luxury or a slightly odd European feature, the bidet is now growing in demand across the United States," notes Blackline Renovation's owner Chris Black. "Since the pandemic hit, we've seen a big uptick in the number of customers requesting bidets or bidet seats in new bathroom remodels. As a result, we believe the bidet will one day become a standard feature in all American bathrooms".
Steam showers, saunas, and wet rooms
Why pay to go to an expensive resort when you can enjoy all the same luxury amenities in the comfort and security of your bathroom. Steam rooms, saunas, and wet rooms are also popular additions to modern bathrooms, and this is another trend that is only going to grow as we spend more time at home. 
Hydrotherapy bathtubs
Enjoy sumptuous bathing any time you want with a hydrotherapy bathtub. Hydrotherapy is a warm water-based massage that provides healing and relaxation. Jets of water target different parts of the body, massaging muscles and soft tissue and stimulating blood circulation. A hydrotherapy soak is ideal if you or a loved one regularly suffers from stress, muscle tension, poor joint mobility, or sports injuries. 
Spa-inspired wellness 
Spa-inspired wellness is hugely popular these days, and this trend shows no signs of slowing down either. Modern bathrooms incorporate many features you might find in a luxury spa or resort. These luxurious features include chromotherapy lighting, misting sprays, aromatherapy, health-monitoring gadgets, and even dry-floating hot water mattresses. 
Everything you need to create the healthy and happy home of your dreams. 
Incorporate Home Wellness into Your Next Dallas Remodel
The home is integral to a healthier lifestyle and a more relaxed body and mind. Our design-build remodeling team here at Blackline Renovations in Dallas puts health and wellness at the forefront of all our home designs. 
We offer friendly and expert in-home consultations where we discuss your specific wellness requirements and the optimal design solutions to meet them.   
Call us today at 214-827-3747 or schedule a consultation.