Personal resolutions come into play every new year. In 2021, homeowners' resolutions are including much-needed home improvements. As a result of the pandemic, we have spent increasingly more time at home, and we are using our homes differently. After several months, we have noticed areas in our homes that are inefficient, outdated, or non-functional. Our lifestyle changes have created a need for home improvements.
Here is list of 2021's top seven resolutions that are promising to raise our energy levels and make our homes safe and sound in the new year and beyond:
#1 Convert a Rarely-Used Space into a Functional Room You Need
Noticed areas in your home that are not being used to their fullest potential? Think "flex space" this year and you'll be amazed at what you can accomplish. With some creative home design ideas, you can turn languishing areas into some of your favorite and most useful spaces:
Space under the stairs—Do you have space under a staircase that catches clutter? Rethink this space to add organized storage or even a private office space or reading nook. Unused space under the stairs can be turned into custom shelving, pull-out drawers, or closet space to keep your valuables out of sight and within easy reach. If it's an open area, consider making it extra office space or a reading nook with bookshelves, a cozy chair, and a smart speaker for listening to music.
Make corners work—Depending on its structural integrity, sometimes a corner wall can be turned into a unique, creative space—to include custom shelving for displaying collectibles, or as a display for art. If the corner itself has no structural value, consider converting it into a unique reading seat or even a mini-bar.
Partition open spaces—If your home has an open floor plan that suddenly lacks privacy, considers splitting areas of your open room into smaller sections for specific uses—whether a home office, gym, mudroom, or playroom. By using screens, partial walls, unique shelving, and different paint colors, you can maximize the space in your home, while adding much-needed comfort and livability.
Make a multi-purpose room—If you have an underutilized guest room, consider turning it into a multi-purpose room, complete with a hideaway Murphy bed, unique shelving, a desk, and additional data and power outlets (this allows you to convert a quiet office into a guest room when you need it, and vice versa).
There are so many ways to create flexible, useful spaces in your home! It's only limited by your imagination. If you have high ceilings, consider adding a mezzanine for a home office or guest space; or use nooks in a long hallway for hanging storage. Even an underused formal dining room can be converted into something that can be used more often, as well as re-converted back into an entertaining space.
#2 Make Your Home Smarter
Bring your home into the future with smart technology that makes life easier, saves energy, and adds to your feeling of safety and security. One great place to start is with a smart thermostat paired with a new heating and cooling system that keeps you comfortable while saving energy when you're not at home. You can program it once, and it will respond to conditions as they change for the most optimal and efficient energy use.
Smart lighting systems can also significantly reduce your electric bills by automatically turning off lights when nobody is in a room. You can also program the lights to go on and off at certain times to make it look like you are at home if you're on vacation. In addition to this security feature, a host of smart locks and doorbells helps keep homes and families safer.
Many exciting new smart appliances for your kitchen remodeling project are available as well. Several smart refrigerators on the market help you update your shopping list, make more ice when guests are coming, and notify your phone if the refrigerator door was left open. Not to be outdone by the fridge, smart ovens and stovetops make checking your roast's temperature and turning down the heat on your sauce automatic.
And for your smart bathroom remodel, there are now ways to use voice commands or Bluetooth to control shower flow, temperature and even warm your heated floor and toilet seat on chilly mornings.
#3 Build a Green Home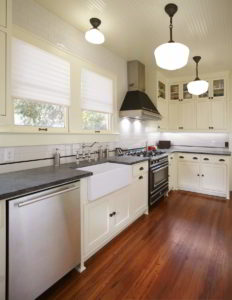 Today, there are many new sustainable and recycled materials to choose from. Similar to smart cooling, heating and intelligent lighting systems, many of the smart technologies mentioned above are only the start of making your home greener and more energy-efficient.
Energy-efficient, long-lasting LED bulbs are now frequently used in today's new light fixtures. In addition to choosing recycled and sustainable materials for your remodeling project, you may be able to salvage old doors and wood paneling to make these elements work in your new design. Consider donating useful materials that are being removed from your home to the Habitat for Humanity.
#4 Give Your Home the Gift of Storage
Every homeowner has an abundant need of storage space. If you're remodeling this year, make sure to consider organized storage space for non-perishable items, appliances, or items that are creating clutter and need to be tucked out of sight. Some solutions include enlarging or customizing your closets. Assess how you use your current closet space and how much more organized it could be for the things you store there. Built-in racks, hooks, shelves, and drawers can help you maximize the space you have in each closet. And nearly every room could benefit from custom built-in shelves or benches with storage space tucked underneath.
#5 Work Wellness into Your Bathroom
Particularly after the year we've had, bathroom remodels are carrying a heavy burden of creating a comfortable place to get ready in the morning and relax in the evening. In addition to design elements that maximize storage, reduce clutter, and make cleaning easier, there are several bathroom features that can transform your bathroom into a luxurious, spa oasis. These design elements include, but are not limited to, a rain shower head, hydrotherapy tub, mood lighting, and a smart speaker-controlled sound system. You can even include a smart TV in your new vanity so you can watch the news or catch your favorite show while you're getting ready.
#6 Maximize Your Garage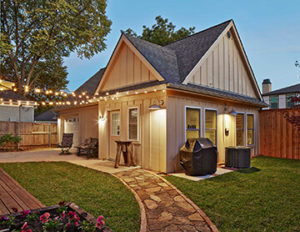 The garage is another room that collects clutter. If you're looking to remodel your garage space, or build a garage addition, consider maximizing its comfort and effectiveness by covering the floors in epoxy that resists oil and grease stains. Add windows for better lighting or built-in storage for tools, sports equipment and garden supplies.
Convert an existing garage into an accessory dwelling unit, or ADU. These smaller but fully-contained living spaces are a modern solution for keeping aging family members close and/or long-term house guests in privacy and safety.
#7 Add a Mudroom to Your Home
Mudrooms have gained in popularity—an ideal place to store muddy boots and hang coats or bring pets in from the outside. A separate mudroom also keeps your main entryway clean, minimizing any mess and protecting your carpets. Consider a built-in bench with shoe storage underneath to keep footwear tucked out of the way. Add ample closet space or hooks for coats and boots and use materials that are waterproof and easy to clean.
Hire Design-Build Home Remodeling Experts
If your New Year's resolution includes a home remodel, tap into the expertise of Dallas's top design-build firm, Blackline Renovations, here to help you realize your home's potential and check off your New Year's resolution.
Be sure to check out our home remodeling portfolio for some fresh ideas, and sign up to receive our monthly newsletter for smart home remodeling tips. If you're ready to start planning your home remodel, please contact us to schedule a personal consultation: (214) 827-3747.