Even though fall is traditionally a good time to plan a home remodeling project, this fall may be especially conducive to sprucing up your surroundings. Here are 5 reasons to remodel your kitchen or bathroom now:
1.  COVID-19 Is a Catalyst for Change
After following recommended stay-at-home restrictions since spring, many homeowners are becoming more intimate with their home's inefficiencies. In addition to sheltering-in-place and caring for one another, we have rediscovered our homes—especially our kitchens and bathrooms.
Homeowners across the country, and particularly in Dallas, are valuing a well-functioning living space and a comfortable, relaxing private sanctuary. That's why kitchens are being opened up and redesigned to accommodate additional family members and changing needs. Appliances are being updated with smart technology. Pantries are being redesigned to accommodate bulk supply purchases. And, bathrooms are being outfitted with natural materials and germ-free devices like hands-free faucets, toilets and voice-activated controls.
Does your kitchen lack space to store bulk supplies? Are your appliances outdated and inefficient? Do you have two chefs in the kitchen instead of one struggling for the same shared work space? Are your bathrooms cramped,  outdated, or lack amenities to support your growing family's needs?
Now, before holiday preparations begin to occupy your time, you can remedy these shortcomings and give yourself and your family the amenities they need to live safely and comfortably.
2.  Take Advantage of All-time Low Interest Rates
Many lenders today offer fast approvals for home improvement loans, with streamlined online applications. Nationwide, mortgage lenders are eager to help homeowners with renovation projects and the qualification process can be relatively easy if you qualify.
Interest rates are also at an all-time low. If you have an ongoing relationship with a local lender, securing financing for a home renovation can be a great option. Whether you're remodeling with the intent of staying put, or renovating to improve the prospect of selling quickly, consider applying for a home improvement loan to start your project off now rather than later. Here are several loan options to consider.
3.  Realize High Return on your Investment
The National Association of the Remodeling Industry confirms that kitchen and bathroom remodels offer impressive return on investment. Money magazine has noted that expected return can range from 80 to 125% of total dollars spent on a redo. While not all estimates are that high, it is generally agreed that well-done kitchen and bath renovations will consistently return upwards of 65% of the total cost. Very few purchases offer that kind of return on a consistent basis. When you start your remodel, you'll want to be aware of the choices that can maximize your return. That's where working with a design-build team can be invaluable.
Most experts recommend that you limit a major kitchen renovation to no more than 15% of your home's market value. Money spent on renovation should also remain in line with neighborhood home values.
For bathrooms, whether you're updating a master bath as a private spa retreat, contemplating a kid's bath renovation to better serve teenage needs, or adding a tiny powder room for guests, working with a professional bathroom design-build team can help you take your project from concept through completion with minimal disruption to your lifestyle, and maximum economic return.
Note: Blackline Renovations knows what's popular in the Dallas area, and can suggest kitchen or bathroom floor plan alterations and materials that will gain you the most bang for your buck. They will also help you stay within your budget restrictions.
4.  Design for Safety and Wellness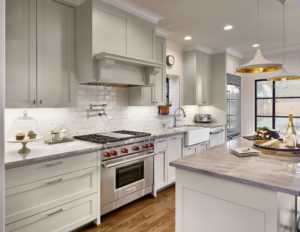 Now more than ever, homeowners like you are re-evaluating every aspect of their lives with a special focus on maximizing health and wellness. The result is a new appreciation for home remodeling as a way to create an optimal environment for families to thrive throughout a public health crisis and well beyond.
Materials and products that minimize exposure to germs, conserve water and enhance convenience are now popular. These items include combi-steam ovens and voice-activated kitchen faucets and appliances. It also includes natural surface materials such as soapstone, granite, marble, and stainless steel, which are all easy to clean and hard for germs to grow on. Naturally, these embellishments also make your kitchen safer, and more beautiful.
A powerful range hood is another key element for all kitchen remodels, and especially important from a health and safety point of view. Working with a designer can help you choose a hood that fits your ventilation requirements, noise capacity, air quality, and keep your kitchen safer.
Today's bathroom is less about personal hygiene and more about creating an experience that helps to soothe and comfort. Approaching design from a wellness standpoint impacts everything from safe materials to special lighting, voice activated technology and personalized appliances. Working with a professional designer can make all the difference in creating a healthy living environment for you and your family. Consideration should be made in your choice of light, color, sound, and water quality.
Today's wellness bathrooms also incorporate new toilets or bidets that can be heated, self-lowering, self-cleaning, and even blend music playlists.
5.  Now More than Ever, It's Safe and Convenient to Meet Virtually with an Award-Winning Design-Build Team
We have all had to readjust to new ways of doing business, but technology has made teleconferencing, video sharing and virtual consultations simple and effective. In fact, this "new normal" is extremely efficient, saving both time and effort.
Today, you have the option to schedule a virtual meeting at a time that works for your entire family.  Invite a spouse or partner to join you on a virtual chat with a professional design-build team to help define your needs and preferences. Share live pictures of your space. Communicate what you love about your current kitchen or bath — and what you dislike. By collaborating with professional designers virtually, you will have a better idea of how to start planning your project—one step closer to making your home remodeling dream a reality.
NOTE: Because Blackline Renovations serves homeowners throughout the sprawling Dallas metroplex, we have found virtual consultations to be a real boon, allowing us to concentrate on creative solutions rather than long commutes. Not only will Blackline Renovations help you flush out creative ideas for your home, but we'll describe what you can expect in the way of a detailed plan, timeline and budget requirements, just as we would if we met in person.
Once actual on-site work begins, Blackline Renovations continues to keep in touch through technology, secure in the knowledge that we have real-time communication ties with our crew and our clients. We fully embrace the capabilities of digital technology, both for voice and visual togetherness.
Start a Conversation About Your Home Remodeling Needs
If your time at home has made you aware of its inefficiencies, explore the possibility of renovating it. Perhaps working from home has made you realize that you need a dedicated home office? Has cooking more meals at home got you needing updated appliances or additional storage space? Have virtual classrooms created the need for versatile kid-friendly space? Maybe you simply want a quiet adult hideaway to read a book or listen to music. Blackline Renovations can help you address your needs, and present creative solutions that fit your design style and budget requirements.
Ready to start your kitchen remodel or talk to a remodeling professional about ideas for your bathroom? Call us today at 214-827-3747 or schedule a consultation.
Interested in exploring kitchen or bathroom options for your home? Check out Blackline Renovations' Design Portfolio or visit us on Houzz.
Subscribe to our newsletter to receive regular ideas about what's trending on the Dallas home scene.